What a perfect morning for the Pennant Finals, and our 2 Finals teams headed to Ballina to take on their opponents.
Our No 3 Team took to the tee first to take on Coolie-Tweed. After our first encounter with Coolie in round 1, which finished in a 3 1/2 to 3 1/2 squared match, we knew we had a good chance of Victory.
Tony Brown started us off with a very tight 1 up win, closely followed by Charlie Huff with a commanding 6/5 win. With losses to Jim Storey and Brendon Willoughby, had the results 2 each, but team Captain Wayne Muir put us back in front with a very nice 3/2 win, then a loss to Nick Davis brought it back to 3 each.
One match still on the course, and Bryan Penny is our hope. With the team not wanting to put pressure on Bryan, they went back to the balcony at the club and wait for a result, I was left to watch the outcome. Bryan 1 down and on the 17th tee put his tee shot 2 foot off the edge of the green but still 45ft from the pin, the Coolie player landed his tee shot on the green and left himself with a 30ft putt. Bryan's putt was a beauty, and he sunk the monster putt, but the Coolie player also sunk his putt. On to the 18th, PAR 4, Bryan has a 4ft putt left while his opponent is 1ft off the green 15ft from the pin. It is looking like extra holes will be needed, but the Coolie player with a full balcony watching, sinks the putt to give his team a 4/3 victory.
Team 4 took on Lismore. Lismore defeated us last week in the Final round 5/2 but we were confident we could take the major Prize.
El President Brent McLennan started us off well with a 2 up win, and Wil Salter continued his good form, winning 3/1, Skipper Paul Quinlin went down 3/1, but Mick Walsh took us to 3 wins with a very good 2/1 win. Darren Hubery went down 4/3 and Mark Jessop also was beaten in a tight match 2/1.
Here we go again, 3 each and 1 match still out there. Can Jimmy Wood get us home.
As the the 2 players approached the 18th green the balcony was full again but bogeys by both players ensured extra holes had to be played. On to the first hole again. Both players teed off, and as they left the tee they were followed by both sets of team mates. The Lismore player had a par, which left Jimmy a 3 footer for his par, and his put just caught the right edge of the hole and dropped in. On to the 20th hole. Jimmy's drive caught the rough on the right side of the fairway and his opponent hit one straight down the middle. Jimmy's next shot didn't come out of the rough well, he could only move his ball a short distance, but he was still in the rough. The pressure now fell on the Lismore player but he did not respond well, only hitting his next shot about 25mts straight into the fairway bunker, his next shot coming up 10mts short of the green. Jimmy put his next shot on the green and 3 putts later it was all over and Jimmy was swamped by his team mates. Victory is ours, another Pennant flag, what a great team effort.
To all who played Pennant golf, Thank you for representing our Golf Club, and I hope you had a great time meeting other players from the other clubs we played, and also enjoyed the courses that they play on. And most importantly, I hope you will all play again next year.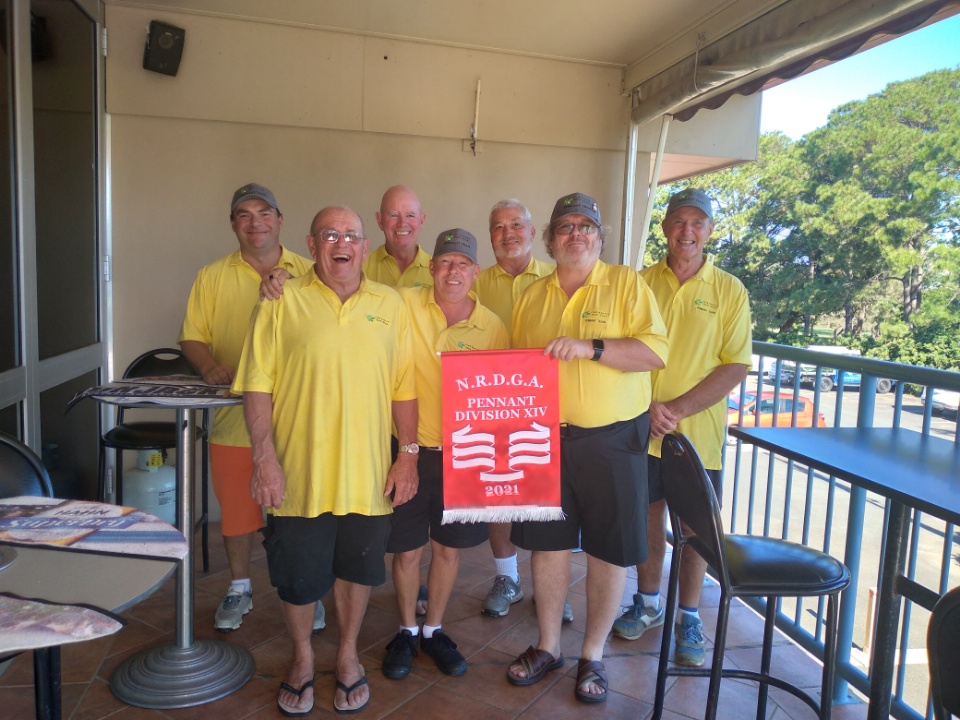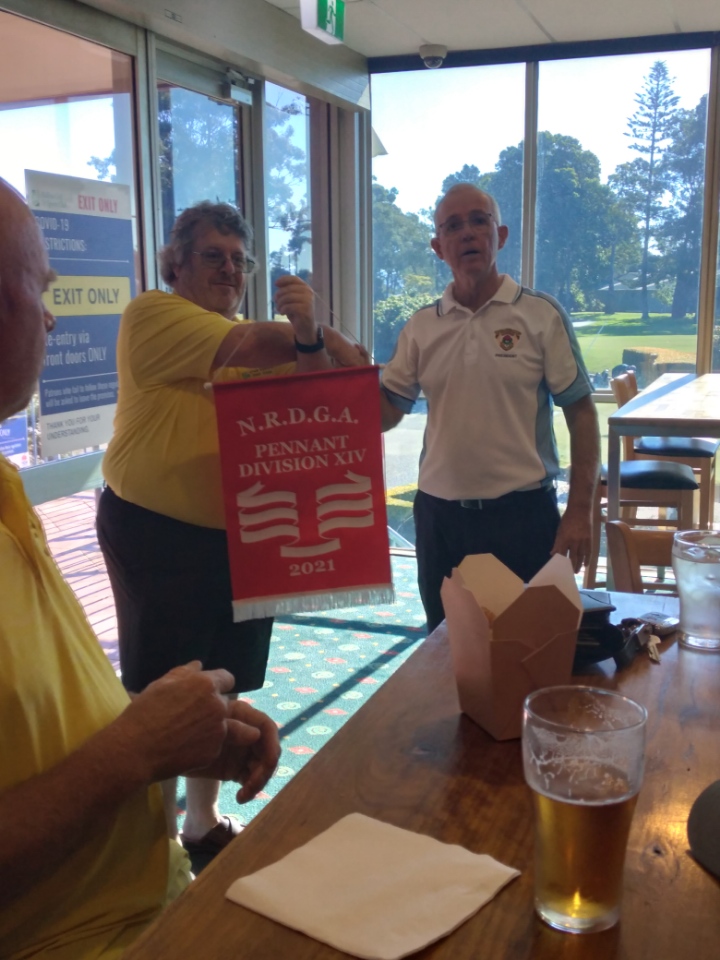 Kevin Haddrick
CAPTAIN